Pregnancy Seat Belt
81% of pregnant women surveyed say that standard car seat belt impacts their unborn child, during sudden stops
The impact to the unborn child is much higher when met with a car accident, using standard car seat belts.
In UK and other developed nations, requires that all passangers wear seat belt, even if they are pregnant.

Our Uniquely Designed, Pregnancy Car Seat Belt Holder can provide comfort & protect you and your baby, while you still comply with the road rules.
The seat belt holder acts as a mechanism to reduce pressure on your baby bump by diverting the belt between your thighs. This could significantly reduce impact to your unborn child during sudden stops or accident.
While pregnant, you must avoid wearing car seat belts over your stomach as it may harm your unborn child. The right way is to wear them under your belly.
BENEFITS:
PROTECTS YOU & YOUR UNBORN CHILD: Significantly increases the safety of you & your unborn child during sudden stops and in car accidents, by diverting the impact away from your baby bump

EVERYDAY COMFORT RIDE: Standard seat belts put pressure on you, even if you wear them under your belly. The Pregnancy seat belt provides utmost comfort by taking away any seat belt pressure, whether you drive or not. (If you switch cars or alternate between driving, we recommend buying two or more to avoid removing & reinstalling the holder frequently.)
EASY TO INSTALL: The holder is super easy to install and can be used for front or rear seats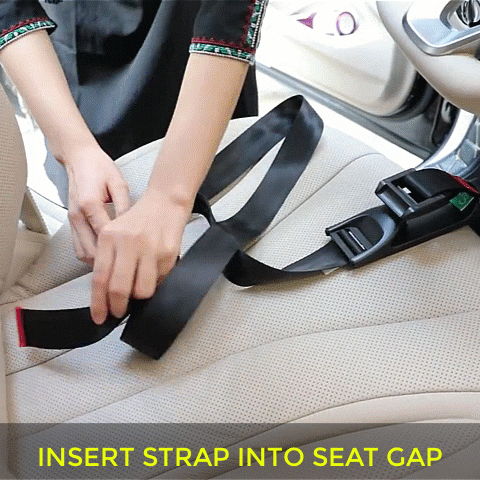 FITS MOST CAR MODELS: The pregnancy car seat belt is fitted by running the strap between the seat and can be fitted to most car models. Please check if you car seat is compatible before buying.
VARIOUS USES: The holder can also be used by people who have medical condition, undergone a surgery or abdominal pain - not just pregnant ladies
PREMIUM QUALITY: The seat belt holder is made of premium quality materials that does not damage your car seat

What's Included?
1 x Pregnancy Seat Belt (Color of your choice)
1 x Instruction Manual
Product Size:
Installation Guide:
Shipping: Please allow 2-4 weeks for delivery to the United States, Canada, United Kingdom, Australia, New Zealand and all European Union Countries. 2-6 weeks for all other countries.
Customer Reviews
⭐⭐⭐⭐⭐
(4.7 / 5.0 Ratings - 6 Reviews)
Becky L.
⭐⭐⭐⭐⭐
27 Apr 2020


I would not be without this. Only a few days after my husband installed this in my driver's seat some idiot drove into the back of me. After a trip to A&E all confirmed OK with my baby and we bought another one for the passenger side for when my husband is driving. One of the first things the midwife asked was if the seat belt titghtened over my bump, luckily i could say that it did not because i had this adjuster fitted. I do not go in a car without this now, its easy and quick enough to install in another car if i go out with someone else.

Scott R. 
⭐⭐⭐⭐ 
24 Apr 2020 


My wife is pregnant and this has really helped her feel much more comfortable about driving her car to work. Very simple design and, like all the simple ideas, works really well.

Karen J. 
⭐⭐⭐⭐⭐ 
19 Apr 2020 


This belt is fantastic and suitable for the majority of cars as it fastens underneath the seat and is adjustable. It was bought as I am worried about the impact of harsh braking whilst being pregnant. It comes with instructions and only took about 5 minutes to place in my car. Delivery was quick too.

Lily Y. 
⭐⭐⭐⭐⭐ 
21 Apr 2020 


I really like this product, helps driving feel more comfortable., Also easy to fit, so long as you can wrap the strap around the base of your seat. Only thing is you have to remember you're using it and take the belt off fully before trying to get out. This may be due to my baby brain though!

Romanna S. 
⭐⭐⭐⭐⭐ 
13 Apr 2020 


Brilliant idea, not just for pregnancy but anyone who's had an operation on the belly region, it holds the bottom of the belt well away from the stomach.

Stacie B. 
⭐⭐⭐⭐ 
17 Apr 2020 


I am really happy with this item, easy to take sit beat on and off, a peace of mind when bf driving in case of force stop. It v-comfortable, really happy
5 Reasons To Buy From Us.
---
Customers Also Bought