🤳 Armii - Magnetic Laptop Phone Holder
$ 19.99 USD

$ 19.99 USD

Save

$ 5.00 USD
---
---
Hate picking up or looking down at your phone, while you work?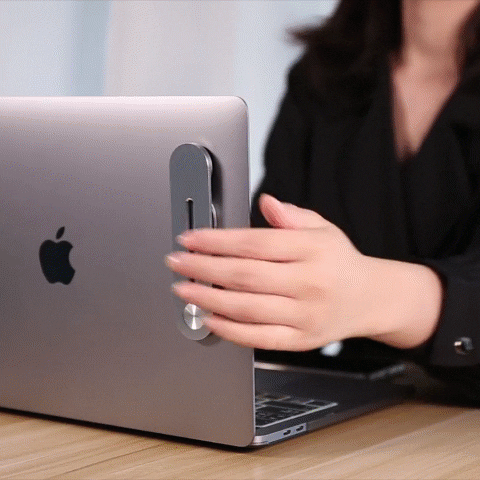 Armii is your extra pair of hands that holds your phone to the laptop, letting you work efficiently or play that game with less distraction
Benefits:
Improve Productivity: Start working effeciently and save time picking up or looking down at your phone everytime it chimes. Armii lets you check your phone at a glance, while you type away that email or so close to finishing that game level.
Reduce Neck Strain: The holder helps you keep your phone at the same eye level as your laptop and reduce strain on your neck and shoulders
Super Convenient: Sometimes its a pain to pick up the phone while you are frantically working to get a report out, drafting that important email or almost there with your game level. Armii makes it super convenient for you to charge your phone, look at the notifications or take that call, and still work, study or play.
Create Dual Screen: Armii lets you add your phone as an additional screen for your work, business or play. Watch videos, listen to music, make video call / FaceTime, keep tabs on live sports scores, take calls, monitor stock market and the list goes on.
Perfect for Live Streaming: Want to monitor your audience comments and discussion when you go live on Facebook, YouTube or any other Social Media? Armii helps you engage with your audience with minimal effort. It also helps you use your phone's camera to stream live, freeing up your laptop.
Collapsible: The mobile phone holder neatly collapses and folds away when not in use. It's also easily removable from your laptop and thin & light enough to blend with your device.
Multi-functional Use:

 The holder

can attach to laptops, Monitors, TV or on any smooth surface, Let's you use your phone in portrait or landscape mode

.
Strong Magnetic Hold: The laptop phone holder attaches to your laptop using 3M glue (as magnets may interfere or damage your laptop). it holds your phone using a strong magnetic disc on your phone case. It's super strong hold will not let your phone fall off!
Easy to Use: Simply peel and stick the phone holder to your laptop and start using the Armii to easily keep an eye out on your mobile phone
Intuitive Design: Simple, elegant and intuitive design makes Armii - laptop phone holder so practical. The premium aluminum body and with flawless folding arm gives you the luxury look to your laptop.
Shipping: estimated delivery times for this extremely popular phone holder is 5-20 business days, from shipment date, for US, UK, AU, CA and EU Countries. All other countries may experience a longer delivery times. Please note that due to ongoing coronavirus crisis, there may be delays in delivery times depending on your country.
What's Included?
1 x Armii - Magnetic Laptop Phone Holder (Not Available in Stores)
How to Install Armii?
Customer Reviews
⭐⭐⭐⭐⭐
(4.9 / 5.0 Ratings - 7 Reviews)
Michael T.
⭐⭐⭐⭐⭐
21 Aug 2020



The most practical tool that I ever bought online. Can't live without this holder anymore.

Jenny R. 
⭐⭐⭐⭐⭐ 
20 Aug 2020



This is great as I work from home and have to juggle between my phone and laptop. makes taking calls so convenient. It only took couple of minutes install. Need few more of these, now that I am so loving it.
Sean O. 
⭐⭐⭐⭐⭐ 
18 Aug 2020



Wow! this is so cool. So very easy to install and really saves my neck. Absolutely practical addition. How did this never existed before. Helps be get through my busy days as digital marketer.

Karen L. 
⭐⭐⭐⭐⭐ 
20 Aug 2020



Bought 3 for me and each of my boys who are studying from home. This is useful and helps me concentrate on my work, while I have an eye for any notification on my mobile.

Patrick H. 
⭐⭐⭐⭐ 
17 Aug 2020



Love this. I thought it was all magnets but makes sense to avoid magnets on things you stick to your laptop. I am happy with the product.

Olivia V. 
⭐⭐⭐⭐⭐ 
19 Aug 2020



Superb. High quality. Super easy and so very convenient. I get a lot of calls in my work and this is so practical to have the phone side by side my laptop so I can refer to the customer's data in my laptop screen.

Julie W. 
⭐⭐⭐⭐⭐ 
10 Aug 2020



Nice. Like the product. As described. I had been having neck pain and this really helps, at least while I am working.

5 Reasons To Buy From Us.
Happy😊
Very good purchase, easy to use